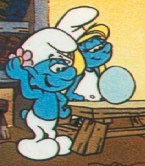 Vanity Smurf has one goal in life: to love himself. You rarely find him without his beloved mirror.
Stats:

Height: 3 apples high
Weight: ??
Favorite Color: pink (pink mirror, pink flowers, etc.)
Favorite Smurf: himself, 2nd place: Smurfette
Quotes: "Oh, I just love flowers!"

Vanity has it all: looks, charm, and personality. The other Smurfs just don't appreciate a good smurf when they see one. Vanity is also a very focused Smurf, it just so happens that his focus is himself.